Travel information
ALT 2012 and DS 2012 will be organized in Lyon, France. France is in the heart of the Shengen area within the European Union: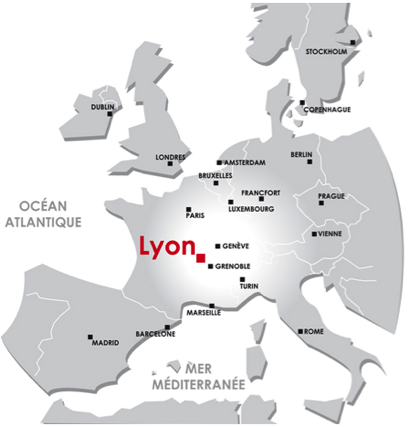 Lyon, France's second city, ideally situated in the heart of Europe, stands at the point where the Rhône River meets the Saône River. This conurbation of a million inhabitants has a fascinating history. Since its official founding in 43 BCE by Julius Caesar, Lugdunum (the hill of the god Lug, the god of the sun, light, arts and crafts), later to become known as Lyon, retained the title of Capital of the Gauls. The city has been shaped by its history. The city's old districts, Vieux Lyon, Fourvière Hill, the Slopes of Croix Rousse and the Presqu'île (almost 500 hectares) have been classified by UNESCO as a World Heritage Site since 1998.
Coming to Lyon
Lyon is an important bridge linking the french and european régions. A lot of destination can be accessed by train or by plane. Lyon airport (LYS) is the most important hub in Europe with more than 37 destinations available.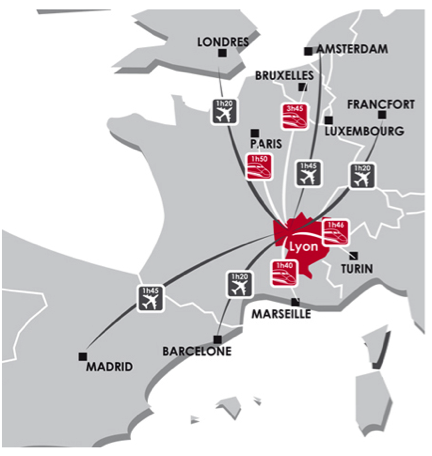 GPS coordinates:
45°47.0829' N, 4°51.1488'
From the airport Saint-Exupéry to the Part-Dieu railroad station
If you come from the airport of Lyon Saint-Exupéry, you have a shuttle "Rhônexpress" at your disposal for reaching the Part-Dieu railroad station. It takes about 30 minutes for a cost of 23 euros (including the return ticket).
Warning: Due to improvement work on the shared infrastructure with the T3 tramway, the Rhônexpress will be completely closed from 6 October to 11 November 2012 included.
Direct shuttle buses operated by SYTRAL (Joint Association of Lyon Public Transport) will leave for Lyon-Saint-Exupéry Airport from Lyon-Part-Dieu.
This shuttle is completely independent of Rhônexpress service.
More information here.
From the railroad stations to the University of Lyon 2
The conference will take place in the historical building of the University of Lyon 2 (berges du Rhônes). The access is very easy coming from the two railroad stations (Part-Dieu and Perrache) using the TCL network:
Perrache - University of Lyon 2:
Tram T1 direction IUT-Feyssine, "Quai Claude Bernard" stop.
Part-Dieu (shuttle from the airport) - University of Lyon 2:
Tram T1 direction Perrache-Montrochet, "Quai Claude Bernard" stop.